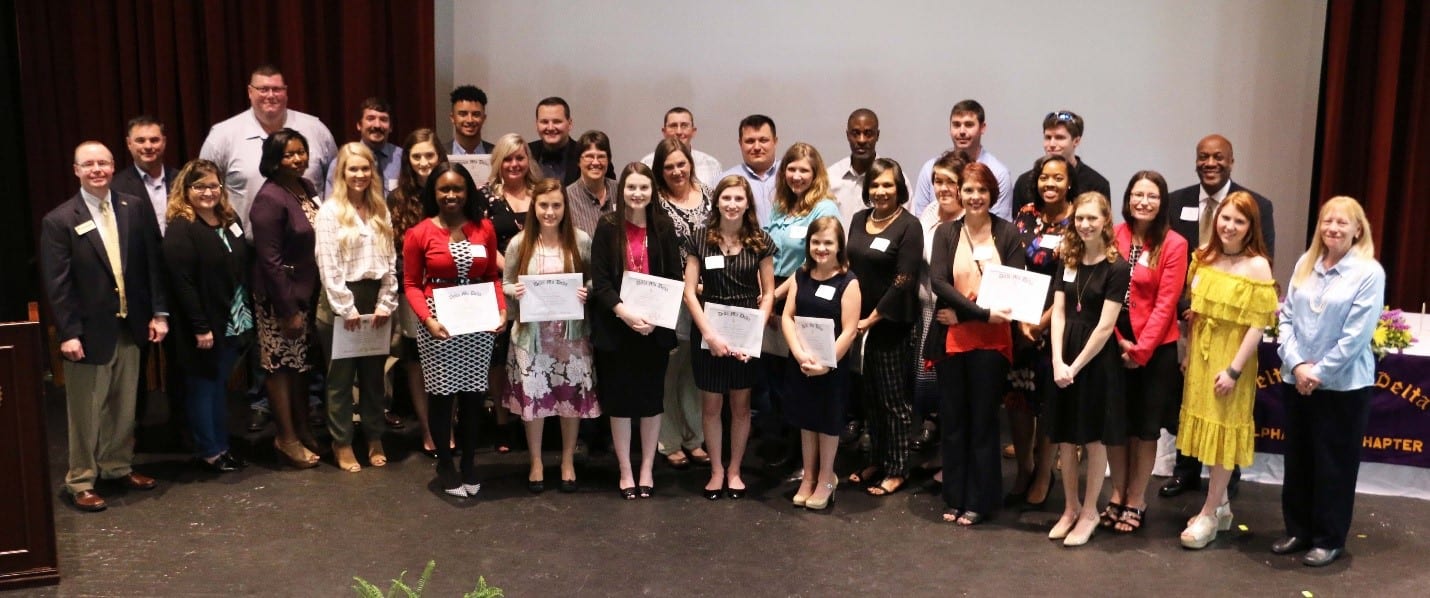 The Spring Induction Ceremony of Athens State University's Alpha Iota Chapter of the Delta Mu Delta International Honor Society in Business Administration was held April 7, 2019 in McCandless Hall.  Interim President Dr. Ron Ingle, Associate Vice President of Academic Affairs Dr. Jackie Smith, and Department Chair and Professor Gary Valcana were in attendance to congratulate the inductees.  Chapter officers, including President Elizabeth Mead, Vice President Colton Hicks, and Secretary Danielle Marcum, officiated the ceremony along with their chapter faculty advisers, Dr. John Berzett and Professor Debra Vaughn.
The Alpha Iota Chapter inducted 58 new student members, including 10 graduate students, into the nationally chartered organization.  Delta Mu Delta is an international honor society, reserved for College of Business students who rank among the top 20% of their undergraduate junior-level and senior-level classes and graduate-level classes.  The Greek letters in the Society's name stand for: Dia Matheseos Dynamis signifying Delta Mu Delta's motto:  Through Knowledge, Power, the power to manage for social and economic good.
This year Delta Mu Delta presented the following awards: The Excellence in Teaching Award to Dr. Glynice Crow, the DMD Medallion Award to Rylan Pendleton, and Outstanding Service Awards to Dr. Kim Roberts and Molly Pepper.  The Robert L. and Mildred S. McCall Scholarship was awarded to Gwendolyn Henry.  The Leslie Essary Distinguished Scholarship recipient was Alethia Jordan.  Two honorary members were also inducted into Delta Mu Delta: Instructor Darren Waldrep and Claude Willis, Advisory Board Member for the Athens State University College of Business Board of Visitors.
Delta Mu Delta was founded at New York University in 1913 to recognize and reward superior scholastic achievement of students with concentrations in Business Administration.  The Athens State chapter was originally formed in 1970 with Dr. Gene Ermert being its inaugural faculty adviser.  The chapter has grown to be one of the largest and most active chapters within the national organization.  The Athens State chapter was also the recipient of the 2018 Star Chapter Award and is recognized as the most award-winning chapter with 17 annual recognitions.  The Alpha Iota Chapter is one of three local chapters sponsoring a scholarship at the national level in 2019 for a deserving Athens State University business student and member of Delta Mu Delta, and a total of $89,000 in scholarships will be awarded to members in 2019 by the honor society.